What does Artificial Nutrition involve?
Artificial Nutrition is a technique for preventing and treating malnutrition, which feeds patients who are unable to feed themselves properly by natural means.

Malnutrition leads to the onset of complications connected with the underlying illness. It increases patient mortality rates, and extends convalescence. Generally speaking it makes any therapy given less effective, and healing processes less efficient. This in turn increases the cost of medicines, hospitalisation and assistance.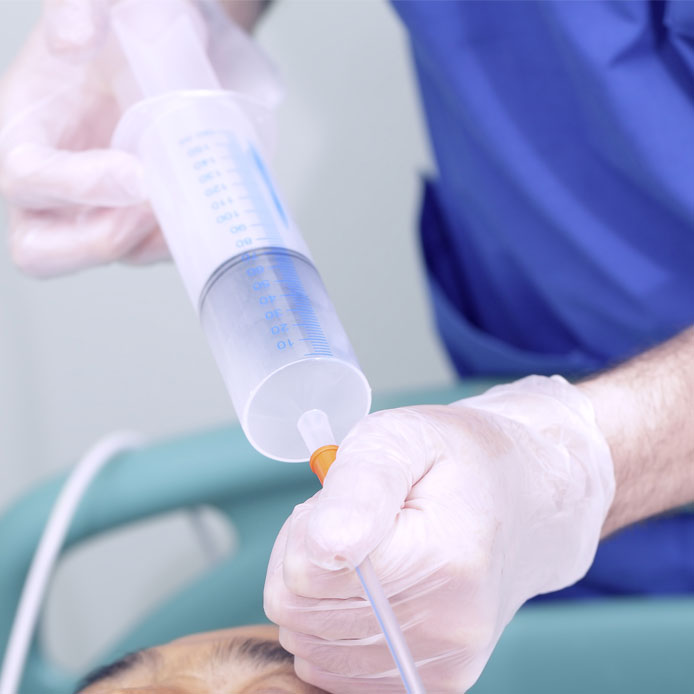 Artificial nutrition methods
Depending on the needs of patients and their clinical conditions, different Artificial Nutrition techniques can be adopted

Enteral Feeding: involves administering nutritious substances directly into the gastrointestinal tract using tubes (nasogastric, nasoduodenal, stomas).

Parenteral Feeding: this provides blended forms of nutrition systemically, where acute or chronic intestinal failure has arisen.

Both forms of feeding can be administered at home. This carries benefits for the patient – who gains quality of life and of health by returning to the family, social and working sphere, safe in the knowledge he or she is receiving support 24 hours a day, 365 days a year - and for medical facilities which can reduce hospitalisation and medical costs.

Who Is the Service for?
The clinical at-home nutrition programme is for patients who can continue post-operative therapy in the comfort of their homes with loved ones and in the utmost safety. Our specialised staff members ensure we can assist patient and family members for the entire duration of the therapy. We demonstrate how the materials and equipment must be used, in keeping with the guidelines issued by the authorised Dietetics Department.
In addition to the foods themselves and equipment, we also provide manuals and tutorials to help patients and family members use the therapy on a day-to-day basis.

Why Choose Our Services?
In 1993 we began to offer an at-home form of artificial, enteral and parenteral feeding. Today we are able to offer a turnkey service, tailored taking into account the specific needs and circumstances of the patient, in order to meet the needs of the Health Service concerned and the individual.

Trust Us
We handle everything from delivery to inspection of the premises, installation and maintenance of feeding systems. We offer a regular supply of nutrition formulas for therapies prescribed by medical professionals, thanks to agreements held with the largest and most qualified nutrition manufacturers. The instruments and feeding systems we provide are EC-certified, and meet all safety and reliability standards. All deliveries are made by specialist staff, using vehicles suitable for the service provided.
Our experience in local health services in a number of regions has allowed us to become
the number one group in terms of number of days of assistance provided. The Health Service has expressed the utmost satisfaction with the service we provide, which also helps overcome bureaucratic and logistical issues.